This post is brought to you by Tiffany Rose
I remember those pregnant days very clearly. After those first scary few months, there was nothing I wanted more than to be able to show off my belly. There was that feeling of pride, excitement and absolute admiration that I was growing a little person inside me. And I wanted to whole world to know about it.
When I was pregnant with my little lady, there was huge excitement for shopping when I finally reached that "I need maternity clothes" stage. And as those days progressed and those shopping experiences continued, I actually became a little bit more disappointed then excited.
I had actually always imagined myself to be one of those classy, kind of sexy, not frumpy pregnant Mummas. I mean all those glossy magazines highlight pregnancy in such a high-class fashion manner with gorgeous dresses, skirts, jackets, and pants. When flicking through those pregnancy magazines I always had a pen and paper on hand, ready to take note of where I was off too to buy 'those' pants. Yes, I wanted to look the best in everything. But then reality struck me.
Those swollen ankles became exceedingly swollen that I literally had no ankles. My wrists and fingers were like balloons; I was like a balloon. There was absolutely nothing sexy and classy about me, let me tell you. Comfort and practicality became the essential ingredient.
Have you ever tried to tie up shoes with a huge pregnant belly in front?
Then with number 2, I had even less time to dress in that beautiful classy and elegant manner. And whatever I did wear became dirty in two seconds from my 15-month-old little girl. Yes, me and fashion and pregnancy did not become friends.
But, I can tell you what I did find comfort and solace in during those very pregnant days:
1. A comfy pair of leggings that can be worn on their own or under a skirt or dress. No ties included.
2. A comfy jacket that can be zipped up easily over your growing belly
3. A stretchy black top that is not just an everyday top, but can be used for evenings and functions too
4. A comfy pair of shoes that do not require a buckle or laces or fancy inserts; just a simple slip on for all places. A ballet flat maybe?
5. Black jeans with a good amount of stretch; designed for all occasions. They actually felt like 'normal' jeans.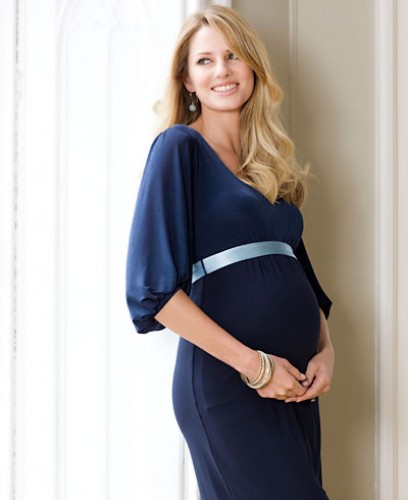 But, for those days when you are heading to a friend's wedding, or feeling a like glam, or just want to show a little extra wow factor, you need a dress; a blue dress or a lacy dress. Devine. Fortunately for me there were no wedding celebrations while I was pregnant. And if there was, I would have totally rocked the dance floor in this gorgeous Sienna dress, the perfect dress for a little pop of colour. Because seriously, having just one fabulous dress is just fabulous!
What are your maternity fashion essentials?