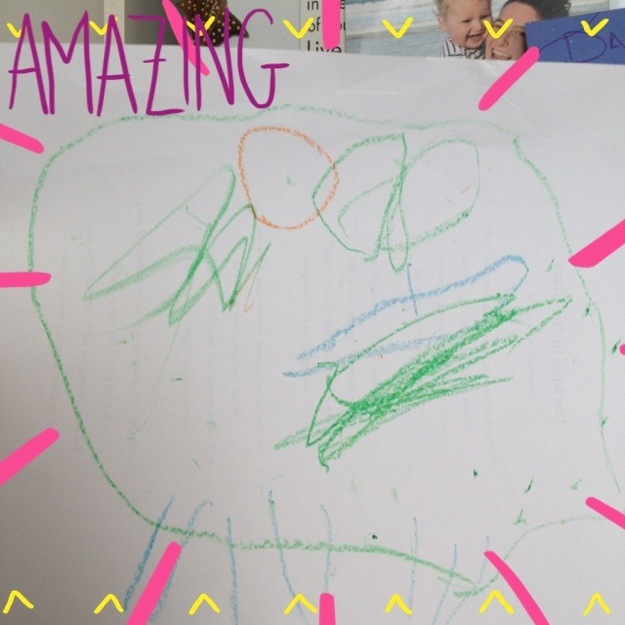 The little man was eating breakfast, and as usual, The Little Miss likes to keep him company. But this occasion was a little different. Instead of her sitting right next to him with no space between her and the high chair, she decided to do a drawing. Discovering new crayons in the playroom was the perfect inspiration to get some paper and start drawing.
But it was the day before when she was outside drawing on the chalk board that I noticed a difference in her drawing. There were circles. Now, I know this is not a revolutionary concept of drawing for many, but this little girl had previously only be doing squiggles. Yes, you know the ones where it is just different colours of lines with no definition and separation to different parts of the picture. In actual fact, it is just lines. Her lines and creation of course, but never the less, just squiggly lines.
I thought it was a little bit of a fluke. A oneoff off kind of drawing with chalk. But no, it happened again. With crayons. And not just one picture, but three. I asked her to draw a picture of me, and she just drew : two eyes, a nose, a head and some legs.
My mind just froze. My jaw kind of dropped. And my husband and I looked at each other and thought "Ohh my goodness!"
It was the moment we realised that she has moved on from just squiggles. It was the moment we realised that her imagination has taken a different turn.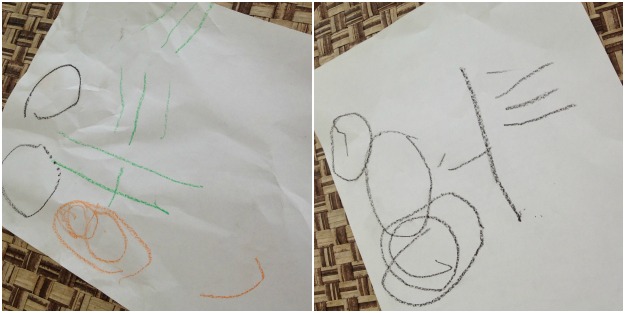 She is growing up right before our eyes.
It was one of those moments in parenting that you wonder what had changed, what you did differently, what shifted and what evolved? It was one of those moments in parenting that you can stand back and just appreciate that maybe it was nothing at all, but just a simple evolution of her development and stage in life that just simple happens.
And this is something worth while to notice to and capture
What moments have you captured lately? Share below in the comments. Add your link to your photo or blog post.