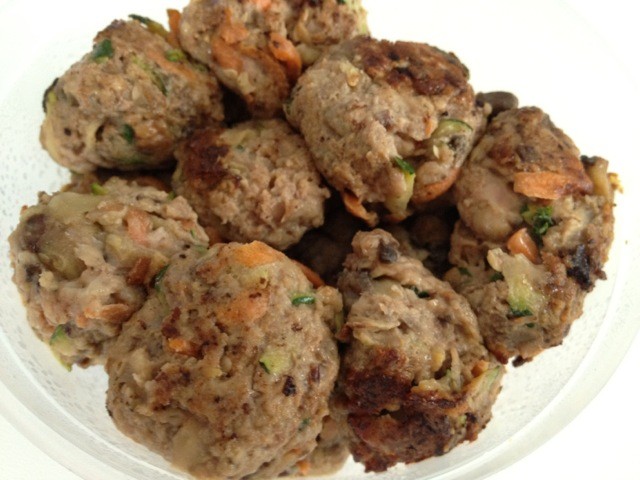 These lamb meatballs are easy to make and very versatile. My boys love these tasty little balls and I serve them up with either pasta or mash potato and usually some homemade tomato sauce for dipping (see my pizza recipe for instructions on making the sauce). The other option is to flatten some of the mince mixture into hamburger patties. The great thing is you get to sneak in some extra veggies without the kids being none the wiser.
Ingredients
500g lamb mince
1 zucchini (grated)
1 carrot (grated)
1 clove garlic finely diced or crushed
1 egg lightly beaten
1/2 cup breadcrumbs
1/4 cup finely chopped fresh parsley
6 finely diced botton mushrooms
1/4 cup grated tasty cheese
1 TBS olive oil
Method
♥ Combine all ingredients except oil in a bowl. I find using my hands works better than a spoon to combine the ingredients.
♥ Shape the mince mixture into little balls (or hamburger patties if you prefer)
♥ Place the balls onto plate or tray and cover with cling wrap. Place in refrigerator for at least 1/2 an hour
♥ When ready to cook heat oil in frypan on medium heat
♥ When oil is hot, place meatballs in frypan and cook on each side for around 5 minutes or until brown. Turn the meatball over and cook for a further 5 minutes or until brown all over.
Do you have meat lovers in your family?
Linking up with Essentially Jess