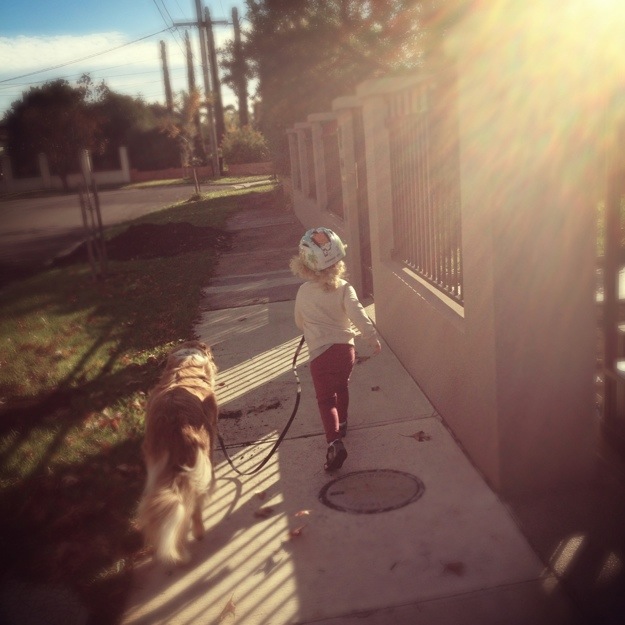 You know that feeling when you feel totally run down, tired, your nose is beginning to feel a little congested and your throat is beginning to swell up?
The little things seem to become big, monstrous things.
And then something else happens, and it just throws you. You didn't expect it, you didn't anticipate it.
At that moment you just want to curl into a ball and hide under your doona covers.
But then, just like that, you hear "Mumma, Mumma, Come Mumma". And everything changes. "You come too Mumma". That moment when you really don't want to do anything else but sleep and curl up into that ball. But you don't. Because that sweet little child's yelling of "Mumma, Mumma, Come Mumma" plays in your ears. And you can't ignore it really. Why would you. How could you?
And then, just like that, all those anxieties, worries, and yuck feelings seem to dissipate slowly. Yes, that runny nose is building and that sore throat is tingling a little more. But it doesn't matter.
Our family walk to the coffee shop, becomes something more. She rides her bike the whole way there. Doesn't stop. Her determination is inspiring and her confidence grows. She rides back, only stopping at the end of the street, for walking the dog seems to be something much more exciting. And it is.
She frolics up the street, holding his lead. I don't know who leads who. But she is having fun. Walter is having fun too.
Family, motherhood, parenthood : letting go of those feelings and enjoying the moment. Because it is in every moment that something exciting can happen. And I don't want to miss out.
Moments can come and go. And I want to capture and save them all. Most of them.
What were your everyday moments?