The one thing I love about summer is the beautiful stone fruit – plums, peaches, apricots and mangoes (the absolute favourite). There is just an abundance of beautiful orange and purple colour, who wouldn't want to eat them.
They make for the perfect cake, the most perfect cake. The sweet juicy taste seeps through while giving an extra layer of moist texture in the mouth. YUM! Everybody has some special 'secret' cake recipe – I know my mum has, which I still have not attempted to bake it mind you because there is probably a glimpse of apprehension of failing it dismally. I came across this fabulous recipe and fell in love. I adapted it slightly, changed it a little and ended up with the perfect plum cake, twice. Yes, I baked it twice in one week, succeeding both times. Only the second time I doubled the quantities. I think the doubling of quantities made for an extra delicious cake with extra body.
2 cups all-purpose flour
2 teaspoon (5 grams) baking powder (the aluminum-free kind, if you can find it)
Large pinch of salt
1 1/2 cups granulated sugar plus 1 to 2 tablespoon (depending on sweetness of plums)
230 grams unsalted butter, softened
4 large eggs
12 smallish purple Italian purple plums, halved and pitted
2 teaspoons fresh lemon juice
1 teaspoon or tablespoon ground cinnamon
♥ Heat over to180 degrees. If you feel up to it, sift or whisk together flour, baking powder and salt in a medium bowl. Depending upon time and energy, I often omit this step. In a larger bowl, cream butter and sugar together with an electric mixer until fluffy and light in color. Add the eggs, one at a time and scraping down the bowl, then the dry ingredients, mixing until just combined.
♥ Spoon batter into a greased 30cm round springform pan (but if you don't have this size, don't worry. Just use what you have) and smooth the top. Arrange the plums, skin side up, all over the batter, covering it. Sprinkle the top with lemon juice, then cinnamon, then remaining sugar.
♥ Bake until cake is golden and a toothpick inserted into a centre part of the cake comes out free of batter (but of course not plum juice). In my oven it took close to 1 hour. Cool on rack.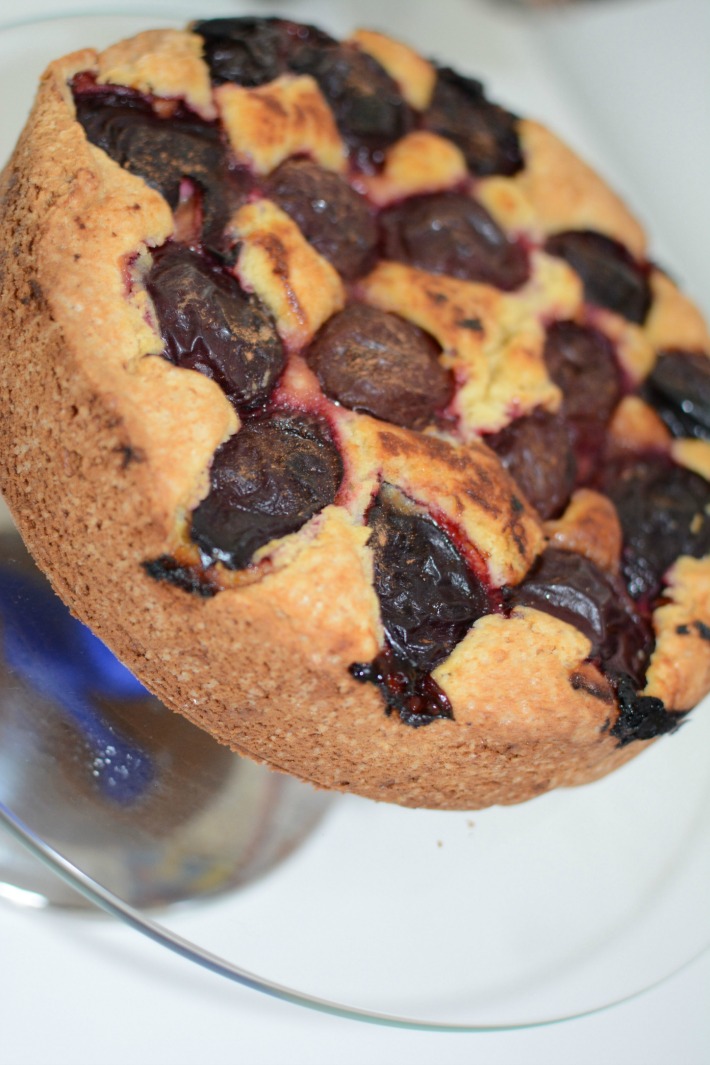 ♥ Let rest and cool. If you are able too, leave covered overnight. This cake is even better on the second ay once the plum juices have seeped through the cake even more. But if you can't hold back, it is still scrumptious on the first day.
Do you have a cake that holds a special 'secret' ingredient?