And you are probably thinking YUMMMMM! right this second right? Well, what can I say, I am salivating at the mouth just thinking about these gorgeous cupcakes, that went snap, with the frosting! Yes, the frosting just makes your heart boil, wobble at the feet and have that 'morish' feeling we all know and love.
The special thing about cupcakes is that they can be as simple or as decadent, fancy or special how ever way you like them. All depending upon the occasion too I guess. Me and frosting, let's just say I have never had huge great success. There have been times I have done two or three batches to get the right consistency and texture. And some how, I nailed this batch. First round. *big claps*.
The raspberries in the frosting give it an extra special taste. Something that only comes with fresh raspberries. And with a chocolate cupcake underneath, the combination is just to die for. Ohh, and those extra choc chips and heavenly too.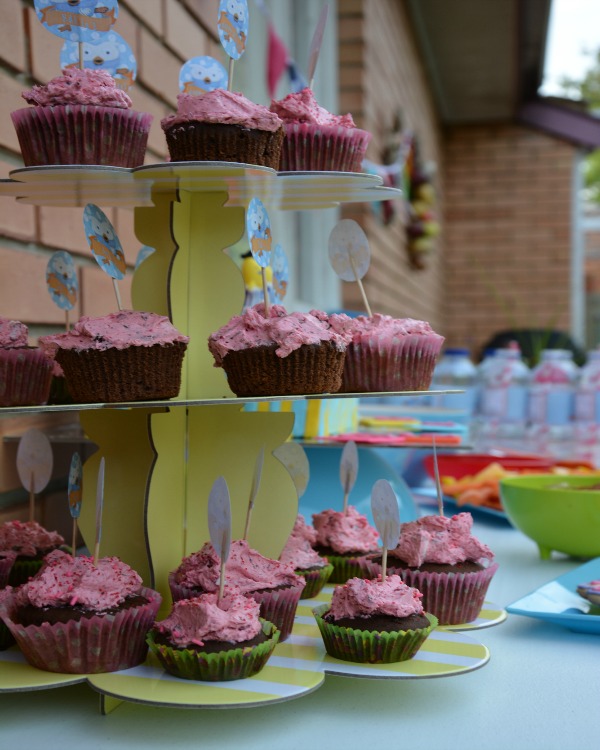 So, without further delay, here is all the goodness:
For the cupcakes: 
1/2 cup (50 grams) Dutch-processed cocoa powder
1 cup (240 ml) boiling hot water
1 1/3 cups (175 grams) all purpose flour
2 teaspoons baking powder
1/4 teaspoon salt
1/2 cup (113 grams) unsalted butter, room temperature
1 cup (200 grams) granulated white sugar
2 large eggs
2 teaspoons pure vanilla extract
For the Raspberry and choc chip buttercream
3/4 cup unsalted butter, at room temperature
2 cups powdered sugar
1 cup fresh or frozen raspberries
1/2 teaspoon pure vanilla extract
1/4 cup choc chips or chopped dark chocolate
Method: 
♥ Preheat oven to 190 degrees. Line a muffin pan with cupcake cups or paper liners.
♥ In a small bowl stir until smooth the boiling hot water and the cocoa powder. Let cool to room temperature.
♥ In another bowl, sift the flour, and add the baking powder and salt. Whisk lightly to stir the ingredients through.
♥ Then in the bowl of your electric mixer, or with a hand mixer, beat the butter and sugar until light and fluffy. Add the eggs, one at a time, beating until smooth. Scrape down the sides of the bowl as needed. Beat in the vanilla extract. Add the flour mixture, a little at a time, and beat only until incorporated. I added the flour in three parts. Then add the cooled cocoa mixture and stir until smooth.
♥ Fill each muffin cup about two-thirds full with batter and bake for about 16 -20 minutes until risen, springy to the touch, and a toothpick inserted into a cupcake comes out clean. Remember, don't over bake the cupcakes as they will go dry. Remove from oven and place on a wire rack to cool.
♥ While the cupcakes are cooling, make the buttercream frosting. In a food processor or blender, puree the raspberries. Place butter and icing sugar in the electric mixer. Beat on a medium speed until light and creamy. Add the raspberries and stir through. Add the chocolate and stir until combined.
♥ Frost your cooled cupcakes with the buttercream.
Happy weekend baking xo
Sharing the recipe love with With Some Grace
{The cupcake recipe was adapted from Joy of Baking, while the buttercream frosting from Two Peas & their Pod}