I recently came back from a fabulous five-night getaway – with no kids and no husband – holiday with my mum. To say it was fabulous is a little bit of an understatement. It was FABBBULLLOUSSS! It was perfect! I truly felt like I recharged my batteries, got my wits about me back and came back a better person, mumma and wife.
Now, I have been to Bali before, about 10 years ago. This time was totally different of course. We stayed in Seminyak, which is probably about a ten minute drive out of Kuta but still on the beach. For those who don't know, Kuta is like the Surfer's Paradise of Bali. It is the place with the nightclubs, Hard Rock Cafe, big brand shopping and the whole young vibe thing going on. Totally not my scene. But… fits for some.
I thought I would put together my little tips, favourite places, 'hot spots' and must do's. So here they go:
Accommodation:
We stayed at The Oberoi which was a fabulous resort on the beach and in the heart of Seminyak. It was that perfect resort for a peaceful, quiet and luxurious experience. The rooms were set up as 'bungalows', a gorgeous little oasis. Many of the newer resorts have a more 'hotel feel', if that makes sense to some degree. If you want true resort style, Vegas style and feeling like you are NOT in Bali, The W is something to consider. Honestly, it did not feel like Bali at all. However, the bar at the pool at night, looking over the beach was just superb. I highly recommend everyone to experience the sunset at The W, with a cocktail in hand.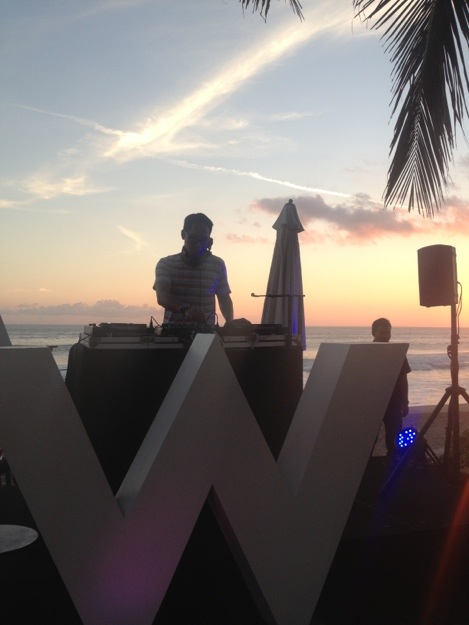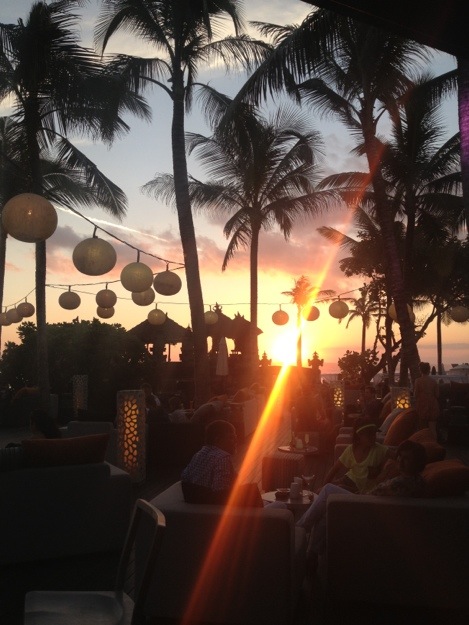 If resorts are not your thing and you want a more cheaper and family friendly option, there are plenty of villas around. The great thing about Bali is that there is something to meet everyone's family needs and budget needs. If you are considering of travelling to Bali with kids, be sure to check out Little Bali Love for some fabulous accommodation tips and advice.
Food:
My mum did some amazing research before we left. She got onto trip advisor and sourced all the fabulous restaurants around… and there are truly some fabulous places to eat. The food is perfect, the food is clean and many of the places are about half the price of what you would pay for in Australia, including cocktails. My favourites:
1. Sea Circus: We ate lunch here every day. It was fabulous, delicious and so cheap. Tortillas for $5.50, fresh salad for $5, and a litre of raspberry mojito for $20. Fabulous! And this place is actually run by a Melbourne guy… we knew he knew his food. And he did not disappoint! Try the Lentil Salad, Eggplant Wrapped Polenta and Tuna Carpaccio.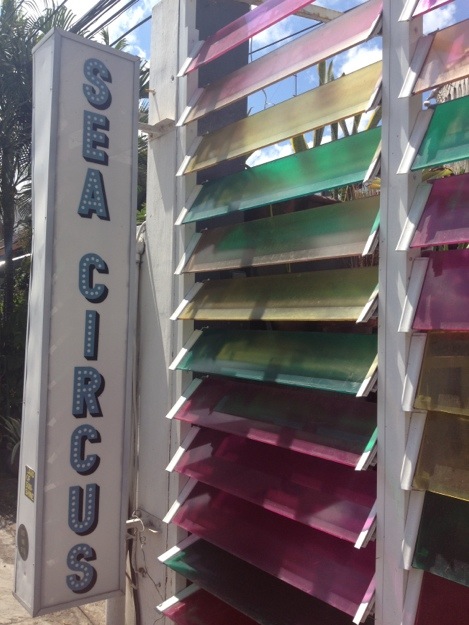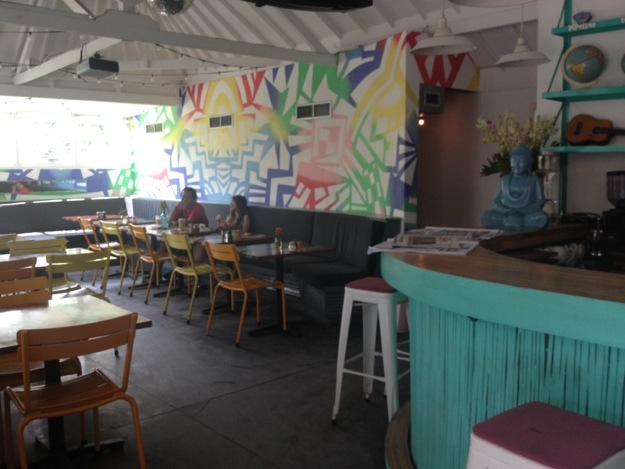 And you can't go past their Kiki Mojito. And their fresh juices and smoothies are also fabulous…. can you tell I loved this place?
2. Sarong : Another fabulous Aussie in Bali making it big. Run by chef Will Meyrick, this is one of the most fabulous places for authentic, rich Asian food. One of my favourite restaurants in Sydney is Jimmy Liks, a restaurant my husband and I go to every time we are there. Little did I know when I went (I only found out on my return) that Will actually worked at Jimmy Liks. Sarong is street food combined with a modern flare and twist. It is fabulous!
3. Ku de ta : This is beach club combined with modern food and Dj at night. The next best thing in Bali is beach clubs… a place for people to get together, boogy the night away, dance, eat great food, drink… and even lounge by the pool. The vibe is gorgeous, the sunset over the beach with a fabulous cocktail is worth it in itself.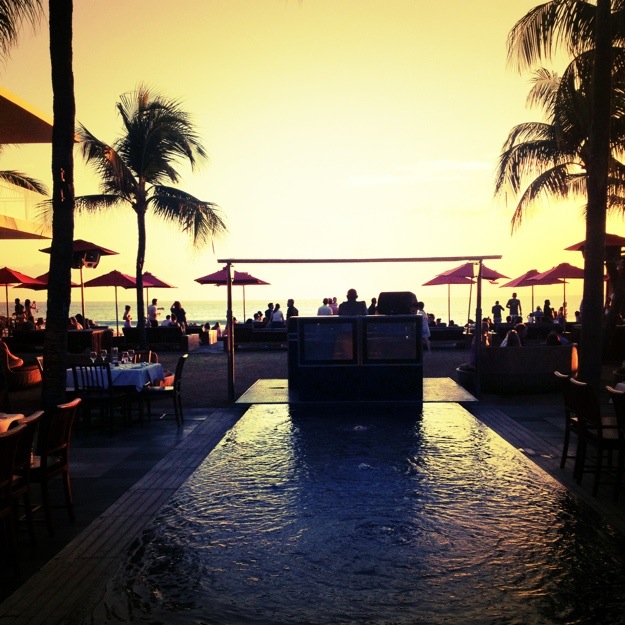 Although the food is fabulous, it is more on the pricey end (for Bali that is). Probably more comparable to Melbourne prices, so nothing overpriced if you compare it to a good restaurant here. Ku De Ta brings beachfront location, good food, ambiance, DJ life and party life all together.
4. Potato Head : Like Ku De Ta, it brings the beachfront beach vibe to life, only Potato head has a pool. Yes, you can go to this place and sit by the pool the whole day. Potato Head Beach Club brings the best of island living with a unique blend of haute cuisine, exotic cocktails, and entertainment which revolves around music, art and fashion. Plan ahead! As they have fabulous international artists playing throughout the year. John Legend performed there while we were in Bali… didn't go of course, but it would have been fabulous.
5. Ginger Moon : Another fabulous place for fabulous asian cuisine. Not as exquisite and exotic as Sarong, but still fabulous. With a very relaxed feeling, it is the perfect place for a quick, easy, cheap and simple meal. Just don't bet on a good glass of red wine. Go for a cocktail instead.
Massage, Pedicure and Manicure:
Again, mum did her research on where the best place for a message was. Body Works in Bali is that place where you feel like you have walked into a women's salon, kind of like you see in the movies where everyone is sitting around, gossiping, chatting and having a good old time. We went to book in for a massage (you have to book in these places) and I ended up staying for a pedicure. It was fabulous. She did such a fabulous job for literally 45 minutes. I am used to about 20 minutes if I am lucky here.
But it was here, as I was sitting on the couch, gossiping with other Aussie travellers that a beautiful young veracious girl told me that Jari Menari is THE place for a massage. She had tried every place in Seminyak, rated them, told me and said I had to try the "dancing fingers" massage. "Imagine two guys massaging you at the one time", she said. I did. It was fabulous. I had two massages at Jari Minari, both about $40 each for 1 hour and it was amazing! It is safe to say that I cancelled my massage at the other place. Again… don't forget to book!
Shopping:
In all honesty, I didn't do a huge amount of shopping. The shopping I did was only in Seminyak. There are fabulous boutique shopps all over Seminyak, lining the streets from one end to the other. I personally preferred the boutiques on my walk from The Oberoi to The W. From jewellery, clothes, leather tailor, furniture and bits and boobs… there is something for everyone.
I will certainly return to beautiful Bali. Depending upon whether I go with my family or with my mum again, the trip will vary. Who knows. All I do know is that although I know many people who travel to Bali with young children, and love it, it is something I will hold off on until they are a little older – at least until the baby is out of nappies and out of his pram. I would love for them to experience a different culture, life and scenery. I also don't want to worry about bath water being drunk (I still don't know how everyone prevents their babies from doing this).
And when I return, the new international airport will be in full operation. Those last few hours hanging around at the airport will certainly be not so challenging.
Have you been to Bali? Do you plan on going?

Linking up with Essentially Jess