This is a sponsored post for Closer To Nature
Before I became a Mumma, I always swore to myself, and my husband, that I would breastfeed my children. At the time, I basically told myself that there was no other option, because this first time Mumma thought the 'breast was best'. But it was only when I became a Mumma to my little girl, that I realised how all those pre-conceived ideas, perceptions & ideals can go out the window, instantly.
I actually did breast feed my little girl. It was journey. It was a challenge. Seeing the pictures of Miranda Kerr breast feed her baby, looking so at peace and effortless, made me cringe. I wanted just that! The reality is, for many it is not! I even got a consultant come to my house to help me with the 'attachment'. Little did I know that I would feel even worse when she left. Because I wanted to be the best Mumma I could be, & I thought, breastfeeding was what I had to do. The thought that I was depriving my child of the best start in life if I didn't persist was the strongest feeling at the time. I still remember it to this day. So I persisted with the attachment techniques I was shown, & the topping up with formula, because she just never got enough from me, & then I went through the whole expressing phase as well.
While my hubby burped her, I expressed. The chug chug noise was a constant drumming in our ears.
Part of me felt like I was that better Mumma for persisting through my struggles & the whole cycle of feeding, then bottle top up, & then expressing. It was liquid gold, & I felt good knowing that I could store some milk & defrost it when I needed it too. It was a kind of relief in some regards.
Time went on, she got bigger, & I was just not able to give her enough. My breast pump became my saviour in many ways, as it allowed me to continue just that little bit longer to give her the best milk there was. Fifteen weeks exactly. The last 5 weeks I solely expressed breast milk, giving her a bottle of breast milk a day, along with the formula bottles. The guilt was still there, but it eased in time.
I always told myself, come number two, I would not go through the same cycle again. And I didn't. The Mr was even worse at attaching. So I stopped. And again, I solely expressed. This time giving him only breast milk till about 5 weeks until which time I then substituted it with formula. The thought of doing what I did first time round, a second-time round, was exhausting in itself. Yes, I was a Mumma who wanted to do what was best for her bubbas, thinking that breast milk was that.
But in all honesty, I would not have been able to do it without a breast pump. Because it was the pump that allowed me to give my babies the milk they needed, the milk I wanted to give them, & the assurance that I was doing everything possible. A simple contraption, but yet a lifesaver. I even remember taking the little machine in its pretty little bag to my study classes when Miss E was 6 weeks old. A traveller just like everything else.
And now, after being a Mumma for nearly 3 years, I realise, that there is 'no best', & there is no 'right way', but there are little things to help you along when you need it.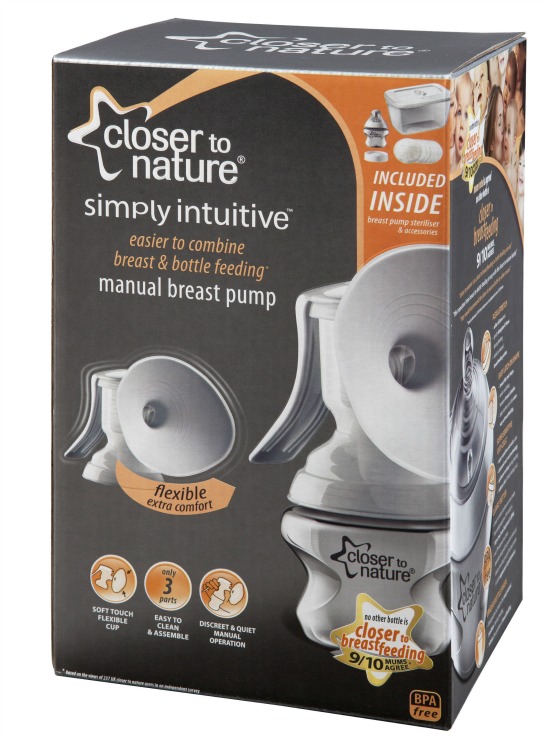 And so, just like I needed it, I am offering one of these little life-saver-hand-held-contraptions-that-saved-my-life. The Closer to Nature breast pumps make expressing easy and comfortable. The Closer to Nature Manual Breast Pump , valued at $90, is one of those things that every Mumma should have in those unexpected  times when you need to dash out and leave bubba with someone else, or, if you are like me and can't breast feed & still want to offer bubba breast milk.
All you have to do is tell me :
What are, or were, your hopes and desires for your bubba?
And fill out the form below
Congratulations to Hayley T x
Linking up with Essentially Jess